Soccer Classes for Kids Ages 18 Months – 10 Years
18 – 24 MONTHS
ADULT INTERACTIVE
15:1 CHILD-TO-COACH RATIO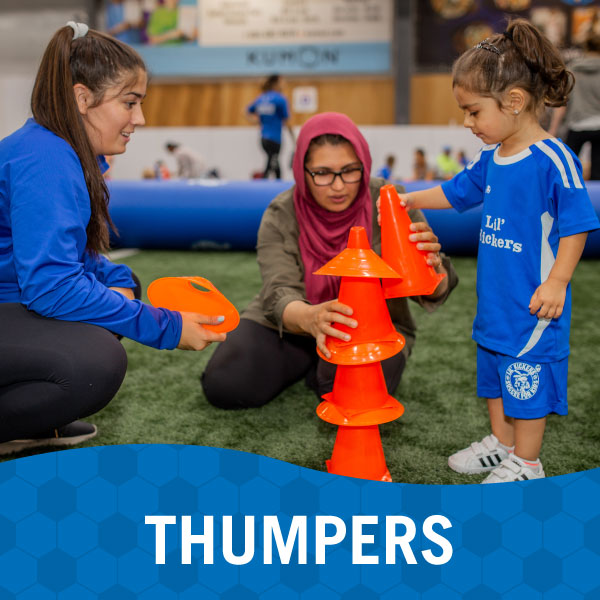 2 – 3 Years
ADULT INTERACTIVE
15:1 CHILD-TO-COACH RATIO
2½ – 3½ YEARS
ADULT INTERACTIVE
7:1 or 14:2 CHILD-TO-COACH RATIO
3 & 4 YEARS
7:1 or 14:2 CHILD-TO-COACH RATIO
3 & 4 YEARS
7:1 or 14:2 CHILD-TO-COACH RATIO
4 – 5 YEARS
12:1 CHILD-TO-COACH RATIO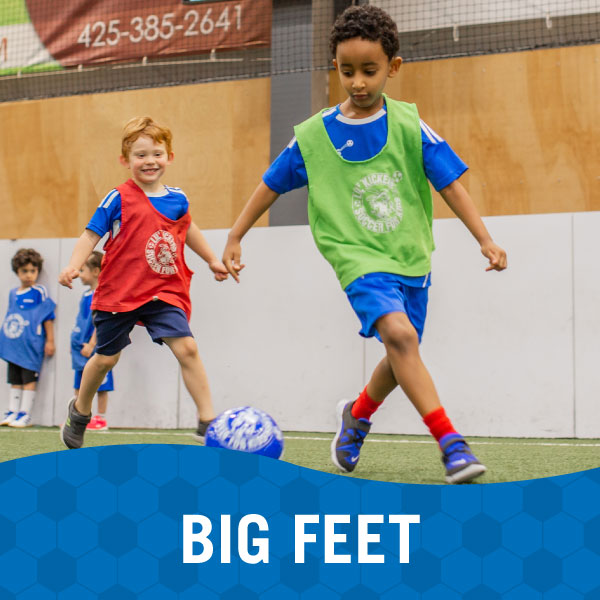 5 – 6 YEARS
12:1 CHILD-TO-COACH RATIO

Classes focus on the fundamentals of player development: dribbling, passing, shooting, trapping and how to use them effectively in a game. Level C will take players through weekly sessions of fundamental skill-building and competitive drills/games to build confidence and competence.
Players well suited for this class have level C or prior soccer experience. Classes focus on refining individual technique, positioning, strategy, speed and agility. Two things come together here; honing personal strengths and understanding how to use them to enhance team play. Coaches guide players towards mastering fundamentals, understanding correct field positioning and developing a strong soccer IQ.
Find your place on the field. Level A players will work on combining technical, tactical, and functional skills all in one place. We will build these skills in a fast-paced environment to challenge physically, mentally, and technically. Players learn tactical insight and systems of play while building speed and agility. They will master fundamentals, position responsibilities, tactical approaches, and attacking/defending skills.
AGES 7/8 & 9/10
BEGINNER
12:1 CHILD-TO-COACH RATIO
AGES 5/6, 7/8 & 9/10
INTERMEDIATE
12:1 CHILD-TO-COACH RATIO
AGES 5/6, 7/8 & 9/10
ADVANCED
12:1 CHILD-TO-COACH RATIO
Fun Starts Here – Benefits Last a Lifetime
Step onto the field during any Lil' Kickers class and you will find it transformed into a world created just for your child. Our well trained coaches will thrill your child with 50 minutes of highly creative, high energy and age-appropriate activities that serve as a great introduction to soccer, and help children master developmental milestones, appropriate for their age.