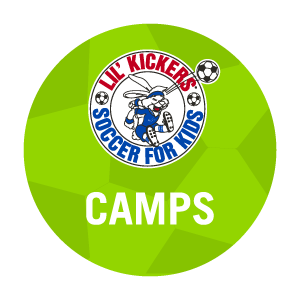 2023 Summer Camp: June 19th – August 11th

Offered at Lake Street, Bradley Place, Morton Grove & Vernon Hills
LKSOCCER Provides fun, safe, and engaging activities for children during their days off school. Campers will participate in a variety of on-field games and activities taught by energetic & friendly coaches. Campers can enjoy inflatables, crafts, and more when off the field! All campers must be potty trained. View our Frequently Asked Questions.
Flexibility:

We understand that families have busy schedules and commitments during the summer months, which is why we have designed our camp to cater to your specific needs. There are no weekly commitments required – you have the freedom to register your child for camp on a daily or weekly basis, allowing you to tailor the camp experience to your family's schedule.

Camp Curriculum: At our summer camp, we believe in providing a well-rounded experience for campers, combining on-field activities, arts and crafts, board games, and a variety of sports. From soccer to flag football, kickball to various other sports, our sports curriculum changes every day, ensuring that each day brings a new and exciting experience for your child.

Our Camp Counselors: Our dedicated and experienced camp counselors are committed to providing a safe and nurturing environment, where campers can explore their interests, develop new skills, and forge lasting friendships. We prioritize both physical and mental well-being, ensuring that every child feels supported and encouraged throughout their time at camp.

Payment Plans:

With our flexible payment options, you can secure your child's spot by paying a small deposit, and then split the remaining cost into two future payments. Whether you choose to register online or over the phone, setting up a payment plan is hassle-free and comes at no additional cost.
Sample Curriculum: A Day at Camp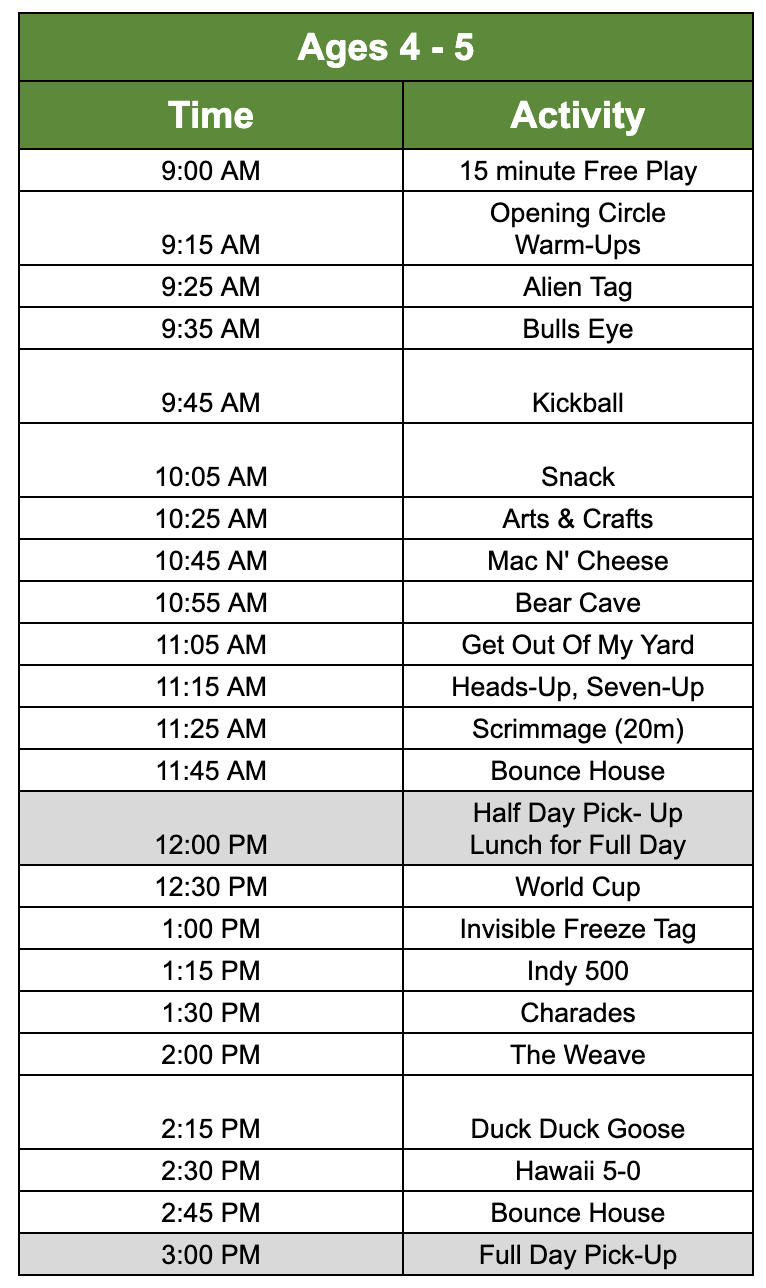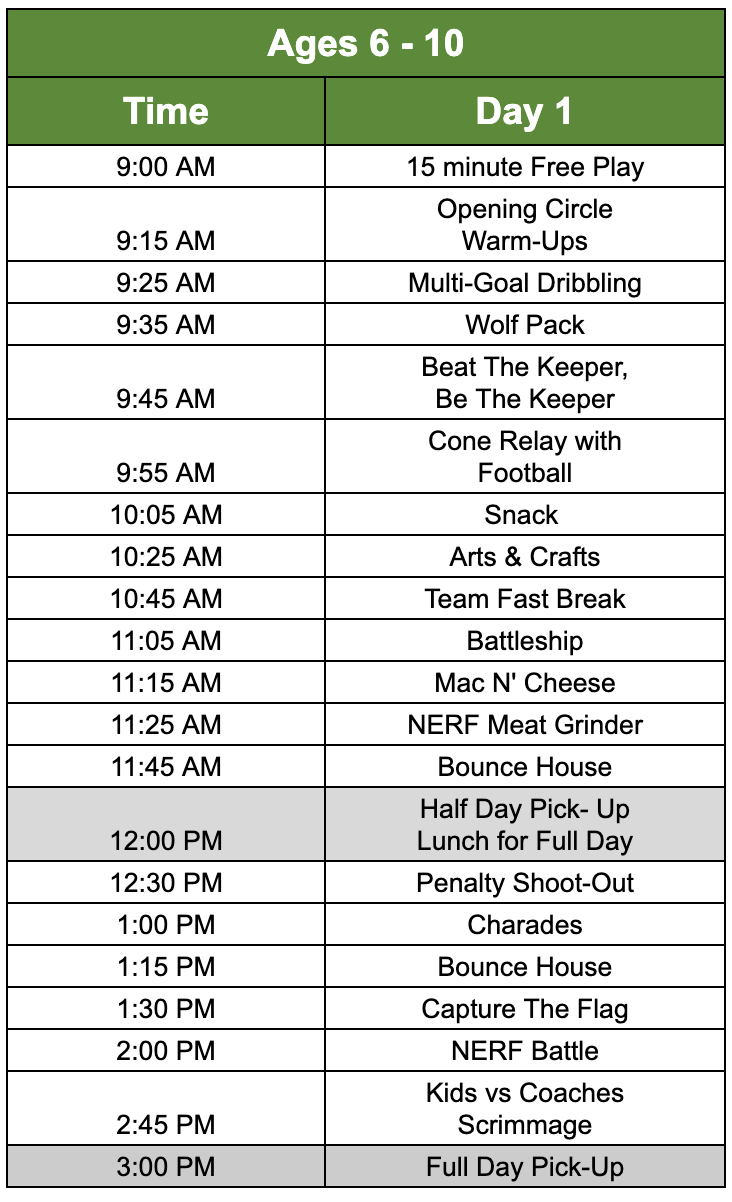 Frequently Asked Questions
What should my child wear to camp?
Campers should wear comfortable clothes and indoor soccer shoes (no cleats) or plain tennis shoes.
Is this a drop-off camp or do I need to stay onsite?
Yes, this is a drop of camp and parents are not required to stay onsite. We ask that parents drop off and pick up their child in a timely manner.
Can I drop-off my child early or pick them up late?
We offer early drop-off for an additional $10 each. Early drop-off is from 8:30am – 9:00am. No late pick up available
Do I need to check my child in?
Yes please stop by our front desk to check-in your child for camp. After you have signed your child in you are free to leave.
What if my child can't make it to camp? What's your Refund Policy?
We can credit your account for one day of camp which can be used for any future summer or days of school camps. Credits can be used for any future summer/day off camp, classes, or birthday parties. Please email us at [email protected] to report a missing camp day so we can take care of the credit.
Fun Starts Here – Benefits Last a Lifetime
Step onto the field during any Lil' Kickers class and you will find it transformed into a world created just for your child. Our well trained coaches will thrill your child with 50 minutes of highly creative, high energy and age-appropriate activities that serve as a great introduction to soccer, and help children master developmental milestones, appropriate for their age.