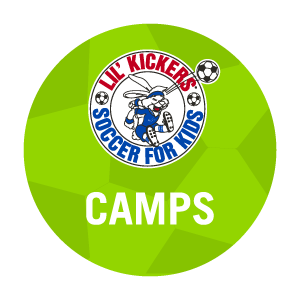 Provides fun, safe, and engaging activities for children during their day off school. Campers will participate in a variety of on-field games and activities taught by energetic & friendly coaches. Campers can enjoy inflatables, crafts, and more when off the field! All campers must be potty trained.
Lunch & Snacks: Lunches and snacks are not included. Campers must bring their own lunches and snacks each day. Lunches must be nut-free.
View our Frequently Asked Questions
Upcoming Dates
Friday, March 15
Lake Street & Bradley Place Locations
Friday, March 24
Morton Grove Location
Spring Break Dates
March 27 – 31
Morton Grove & Vernon Hills Locations
April 3 – 7
Lake Street & Bradley Place Locations
Summer Dates

Offered at Lake Street, Bradley Place, Morton Grove & Vernon Hills
June 19 – 23
June 26 – 30
July 3 – 7 (No Camp 7/4)
July 10 – 14
July 17 – 21
July 24 – 28
July 31 – Aug 4
August 7 – 11

Frequently Asked Questions
What should my child wear to camp?
Campers should wear comfortable clothes and indoor soccer shoes (no cleats) or plain tennis shoes.
Is this a drop-off camp or do I need to stay onsite?
Yes, this is a drop of camp and parents are not required to stay onsite. We ask that parents drop off and pick up their child in a timely manner.
Can I drop-off my child early or pick them up late?
We offer early drop-off for an additional $10 each. Early drop-off is from 8:30am – 9:00am. No late pick up available
Do I need to check my child in?
Yes please stop by our front desk to check-in your child for camp. After you have signed your child in you are free to leave.
What if my child can't make it to camp? What's your Refund Policy?
We can credit your account for one day of camp which can be used for any future summer or days of school camps. Credits can be used for any future summer/day off camp, classes, or birthday parties. Please email us at [email protected] to report a missing camp day so we can take care of the credit.
Fun Starts Here – Benefits Last a Lifetime
Step onto the field during any Lil' Kickers class and you will find it transformed into a world created just for your child. Our well trained coaches will thrill your child with 50 minutes of highly creative, high energy and age-appropriate activities that serve as a great introduction to soccer, and help children master developmental milestones, appropriate for their age.